Exporting – "It's a science Jim, but not as you know it."  
In Trading made simple – Episode 2 we recommended speaking to friends and colleagues experienced in export, to gain invaluable insight into going global.
Now in Exporting made simple – Episode 3, we'll look at some of the other sources of information available to you.
Reciprocal business relationships
Many SMEs could overcome their lack of internal knowledge and experience by calling upon the support of their business partners. Bring companies such as freight forwarders and shippers into your supply chain and build reciprocal business relationships with them by sharing information and skills.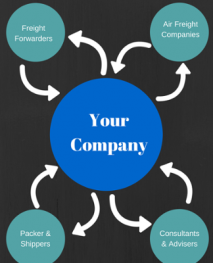 International Trade Organisations
There is a myriad of organizations that seek to promote an increase in the Exporter population (national and local Government, Enterprise Agencies, Trade Associations, Chambers of Commerce, and others) and they can all play a part in facilitating export. Their motivation ranges from economic self-interest to seeing you become a customer or member.
Some of these organizations would have you believe it is both very simple and 'everyone can do it' and others in the flat earth society would have you believe Exporting is a science which 'can only be done by experts'.
Understand their motivation
So SMEs that want to start exporting, or to export more have an army of well-wishers and support available. Understanding their motivation holds the key to how much of your precious profit margin you have to share with them though. Some of the help will be in the essential category so you will have to rely on key providers, but a lot can be sourced through the identification and use of smart software. Exporting also requires a bit of luck – and you know what they say, the more often you try the luckier you get!
That's it for this episode of "Exporting made simple – Episode 3". If you'd like to learn more about this subject, look out for subsequent posts on our blog page.
Alternatively, subscribe to our mailing list and get the latest, in-depth coverage of topics covered in our blogs.