Export or Commercial Invoice
A Commercial Invoice (also referred to as an Export Invoice) is a primary document used during international trading activities. It includes commercial obligational information between the buyer and seller, along with the content of the package/consignment, and is the foundation of all other documents required for exporting goods overseas.
The information contained on all other shipping documents must correspond with that of the Commercial Invoice.  This means that the Commercial Invoice is the linch-pin document for the international trade and one that all other documents (including Certificates of Origin, Packing Lists, Standard Shipping Notes, Customs Declarations etc.) MUST relate back to the Commercial Invoice.
Sample Commercial Invoice from EdgeCTP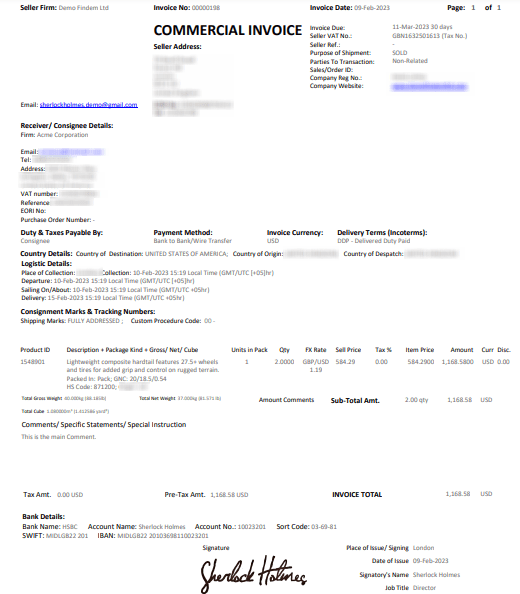 When is a Commercial Invoice used?
A Commercial Invoice should be used when a commercial transaction results in a product being exported overseas. It is used as part of a customs declaration for international trade.
Why do I need a Commercial Invoice?
The Commercial Invoice is important as it is used by numerous parties, such as:
Customs to determine the true value of exported and imported goods, and calculate the associated duties and tax (tariffs) for the goods identified in the Commercial Invoice
Insurance companies (if insurance is required for the shipment of the goods) will use the Commercial Invoice as a basis for providing cover on the value of the goods
Chamber of Commerce (if issuing a Certificate of Origin or Movement Certificate) will use the Commercial Invoice to check that the goods being described on the certificate application correspond to the goods being exported (any differences will mean the certificate application is rejected)
Customer/Buyer will use the Commercial Invoice to satisfy themselves of the goods being purchased, at the correct price and quantity, and satisfy any related third party (i.e. loan issuing bank or trade finance company) on the economics of the trade being finances and agreed payment terms + settlement currency
Logistics firms or Freight Forwarder or 3rd Party Brokers (if used) will use the Commercial Invoice to assess the delivery terms (usually Incoterms) and their associated obligations within the international trade for delivering the goods
How is a Commercial Invoice Different to a Standard Invoice?
The Commercial Invoice is more geared for international trading of commercial goods, i.e. recording the trade in a more detailed manner than a standard accounting invoice would.  That is, a standard accounting invoice holds details mostly about the economic requirements of trade and its accounting impact; whereas a commercial invoice will do the economic obligations (just like a standard accounting invoice) and also detail the logistics requirements; consignment weights + measures; delivery terms; settlement period etc.
What is the minimum or mandatory information required on a Commercial Invoice?
The following is the basic data or information you need to put on a Commercial Invoice as a minimum:
Seller/Exporter Details

Company Name
Full Address including Country
VAT/ Tax number (optional + good to provide)
EORI/ Reference Number (optional + good to provide)

Consignee/Buyer Details

Company Name
Full Address including Country

Invoice Reference Details

Invoice Date
Due Date
Invoice Currency

Delivery + Payment Details

Country of Destination
Delivery Terms (usually Incoterms)
Payment Method

Consignment Details
Product Details

Product ID
Harmonised System Code (HS/Commodity Code – optional + good to provide)
Country of Origin (optional + good to provide)
Units in Pack (how many units are in each sellable pack)
Quantity of Packs (how many packs are sold in the consignment)
Amount/Value + Currency (how much is payable for each product)
Gross/ Net/ Cube (optional + good to provide)

Invoice Amount Details

Pre-tax Amount + Currency
Tax Amount + Currency (usually zero for international trading)
Invoice Total + Currency
Settlement Balance Due + Currency

Invoice Authorisation Details

Authorising Person's Full Name
Authorising Person's Job Title
Place of Issuing/ Signing
Date of Issuing/ Signing
Signature of Authorising Person (optional, unless certification requires)
How to create a Commercial Invoice:
Depending on your current and future requirements for commercial invoices, you could do one of the following:
Just make one for now and never again

fastest and simplest ways would be to create it by hand, using: paper and pen or a type-writer or MS Word or MS Excel and printing it out
Just make sure you add the minimum or mandatory fields (see above as a guide)
Keep a copy for yourself; post one to the Buyer; add one to the outside of the consignment pack (for the logistics firms and customs authorities), and you may want to send a copy to your accountants, for book-keeping purposes too
It's also worth trying EdgeCTP on the free trial and just make the invoice and run!  We'd recommend doing this because EdgeCTP has a step-by-step guide on the data that needs to appear on a Commercial Invoice, which means you can be sure you've created the commercial invoice correctly + you can fire out copies to people electronically (PDF) at a click of a button … it'll save your time (even initially)

Make a Commercial Invoice now and again

there are numerous locations across the web that allow you to create free Commercial Invoices
If you want one that'll save you time, money and effort in creating commercial invoices then look no further than EdgeCTP, because when you create a commercial invoice in EdgeCTP, the system will help you complete all the mandatory fields (and more); allows you to create printed and electronic (PDF) copies for emailing to various parties and seamlessly connect to your favorite accounting packages (e.g. Xero and FreeAgent) and copy the commercial invoice into the accounting package at the click of a button – super simple
Using EdgeCTP also means the next time, since your products and customer contact details save in the system the first time, creating a commercial invoice is ultra-simple with product and customer details auto-populating at a few clicks
Here's an example guide on how simple it is to use a product like EdgeCTP to create a Commercial Invoice
Remember EdgeCTP is free for 30 days, so give it a spin without any obligations

Make Commercial Invoices as a daily or weekly task

Then don't waste time doing this manually, sign-up to a system such as EdgeCTP, because with it you'll create Commercial Invoices in seconds rather than 10s of minutes or hours
EdgeCTP also has multi-user modes, so different people can create commercial invoices, whilst others can authorise them (all electronically)
Another added benefit of EdgeCTP is that the Commercial Invoice can use as a basis for generating other related documents such as Packing Lists; Standard Shipping Notes; Certificates of Origin etc., all without needing to re-type and with just one click – now that's insanely efficient, so don't waste your business life cobbling things separately, use a Combined Trading Platform (CTP) like EdgeCTP today
Where can I get a Commercial Invoice blank form?
Sign-up to EdgeCTP and let the system help you generate paper and electronic versions, just remember to use the free 14-day trial to see how you get on before committing.