Start-Ups + Small Businesses
Combined Trading Platform
For manufacturers and traders of physical goods who waste time and money juggling between different systems and business processes while trading nationally or internationally, EdgeCTP offers a brand-new solution that combines SEVEN essential business tools into ONE smart online platform. This means you can trade in a more digital, efficient, and connected way than ever before.
Who Would Benefit Most
Meet the Types of Businesses EdgeCTP was Built to Help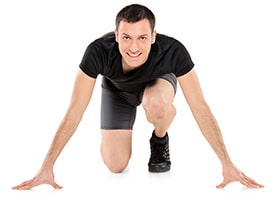 START UPS
CTP gives you 7 essential trading tools in one online, cloud-based platform, so as a Start-Up business you'll simply be ready, from day one, to just make, buy, sell, quote, invoice, control stock + logistics and automatically update accounting records!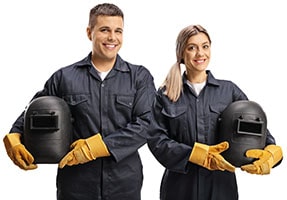 MAKERS/ MANUFACTURES
Juggling multiple systems + processes when managing the production, storage, sales and supply of goods, costs you time + money. Use the class leading CTP, which puts all your manufacturing needs in one system – saving you time + money!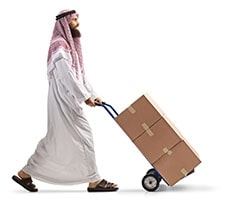 EXPORTERS & IMPORTERS
If your business model is geared for international trade, then CTP has the 7 essential elements you'll need for buying + selling goods internationally. From Certificates of Origin, export invoices etc., all the way to supply chain logistics and customs declarations!
CHAMBERS OF COMMERCE
As a Chamber of Commerce, your involvement in supporting businesses in international trade can extend, with CTP, beyond just authenticating Certificates of Origin or Movement, to actively providing an export office/hub service.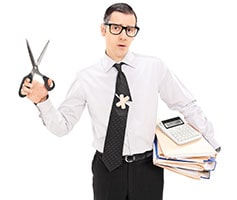 ACCOUNTANCY PRACTICES
Beyond providing accountancy services, such as book-keeping and year-end accounts preparation + filing, using CTP allows an Accountancy Practice to provide to clients a chargeable, value-adding back-office business process outsourcing (BPO) service.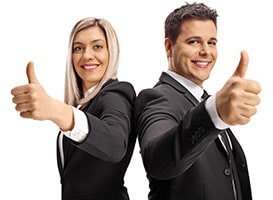 ADVISORY/ CONSULTANTS
As either business advisors, consultants or freight forwards, CTP enables you to efficiently and seamlessly connect with the client's international trading requirements + data, and let's you provide a more personable end-to-end service than before.
Are You Wasting Time + Money
Juggling Between Different Systems + Processes When Trading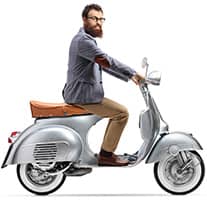 Efficiency Increase
When making, buying, selling and consigning goods nationally + internationally by using just ONE system to manage it all!
Save Time
By eliminating the need to re-key the same data between different systems because it's all in ONE place.
Save Money
By only using ONE system to support your making, buying, selling, quoting, invoicing, stock control & shipping needs.
Get 7 Essential Trading Tools
In A Single Software Solution Saving Time, Money + Increase Efficiency
Click each petal below to learn more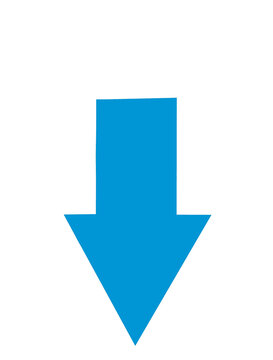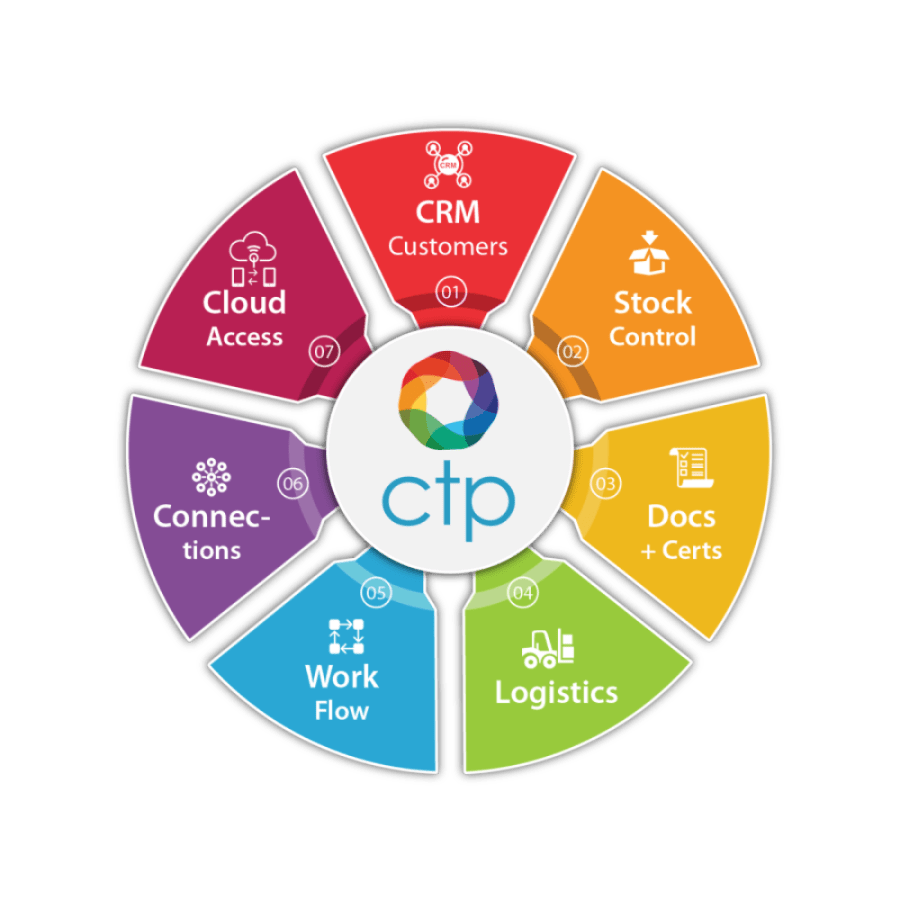 Key benefits of using the full EdgeCTP integrated application:
Customer Relationship Management (CRM) for holding an unlimited number of your customers, suppliers, contacts etc.
Stock Control for your products, including warehousing, manufacturing, Bills-of-Materials (BoM), batches, expiry etc.
Over 30 digital documents: quotes, invoices, packing lists, purchase orders, sales orders, certificates (CofO) etc.
Logistics

carrier comparisons + shipping + order fulfilment + consignment label generation etc.

Workflows

for both Sales + Purchase orders including business-to-business and eCommerce (sales orders) processing

Connections

allowing you to digitally send data to accounting packages; logistics companies; chamber of commerce; FX rates etc.

Cloud

enables you to have access to your data from any internet connected device from anywhere in the world

20 users

can be setup to use EdgeCTP at the same time with customizable permissions for each user and remote working teams
Click each petal below to learn more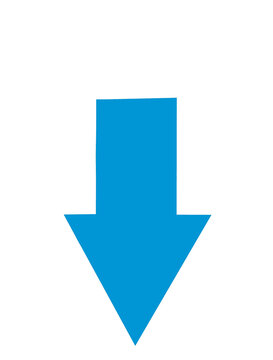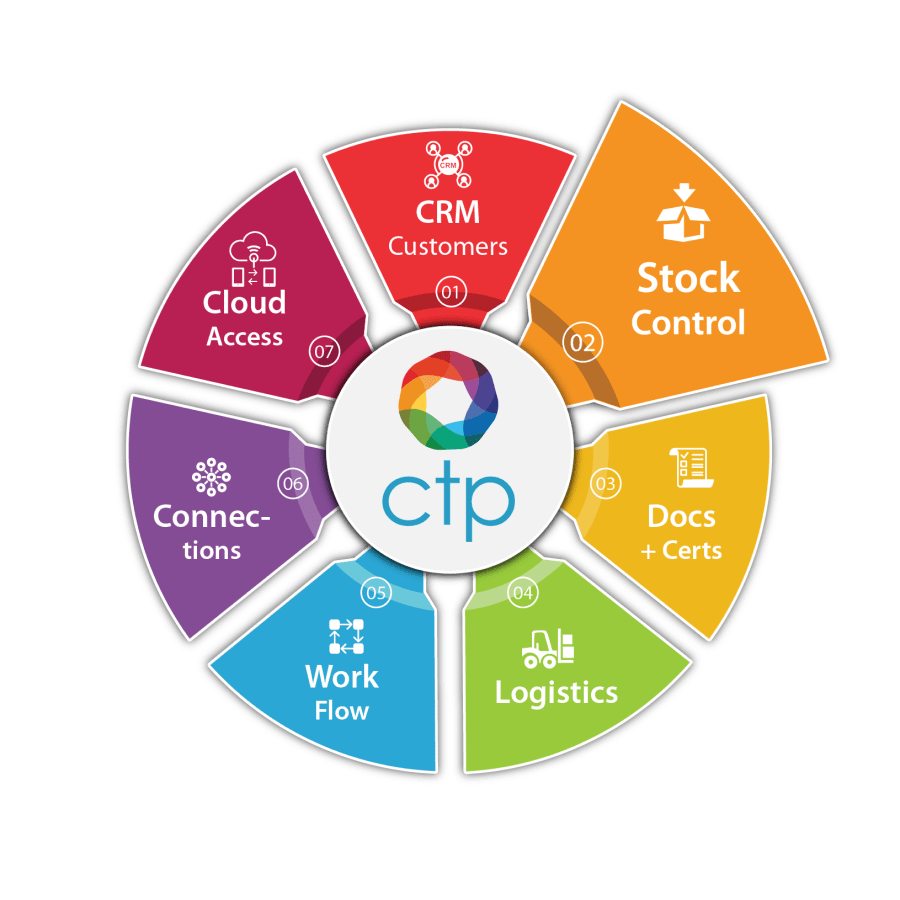 Stock Control + Warehousing + Manufacturing
Key benefits of using the Stock Control element of EdgeCTP:
10 product types handled, from single items; assembly items; labor; batch; serial number; expiry dates and variants
Bill-of-Materials (BoM) – six levels deep (sub-assemblies)
Harmonized System (HS) code classification for national and international selling of goods + origin of goods analysis
eCommerce platforms products listing (e.g., Shopify, WooCommerce etc.) and capture sales orders for fulfilment
Stock Control in warehouses + vehicles at: available, reserved, quarantine, rejected + expired quantities
Stock handling including packaging, user care instructions, transport handling, sizes + weights, dangerous + controlled goods
Manufacturing with stock demand calculation, work in process and completion reporting states
Click each petal below to learn more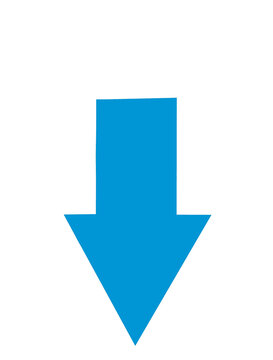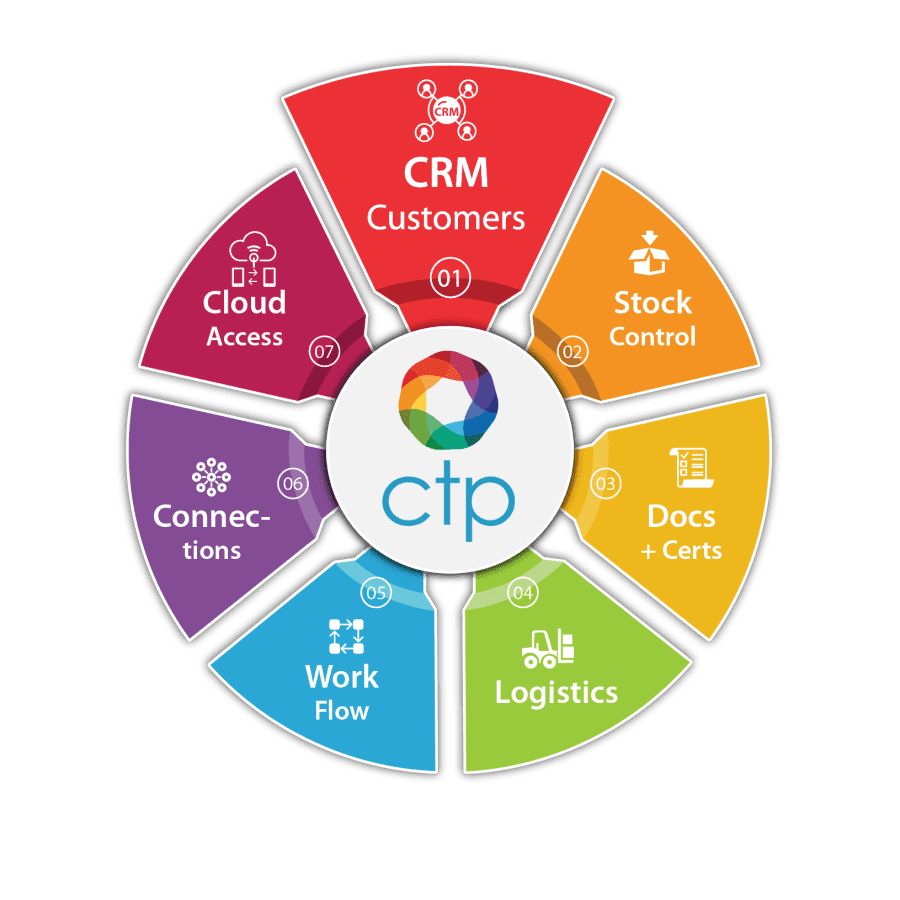 CRM – Customer Relationship Management
Key benefits of using the CRM element of EdgeCTP:
Unlimited number of contacts, including customers, suppliers, organisation, individuals, linked persons etc.
Connected to Google for accurate and convenient data entry validation of company details, including logo grabbing and auto-address populating
Marketing and sales funnel tracking and management
Engagement and contact tracking for tasks + appoints + call captures + reminders and email campaign
Reporting sales + purchases + custom search reports
Trading activities to each customer and supplier
Advanced details on each contact, including industrial classifications; control licensing requirements; credit limits etc.