FX Payments: Western Union (WU-EDGE) + EdgeCTP
Combining the Power of WU-EDGE + EdgeCTP to Better Manage Foreign Exchange (FX) Payments.
Why You Need A Better FX Payment Method
If you buy + sell goods internationally, you're going to need to make or receive payments in different currencies. It's tempting to stick with your own home currency to avoid "gambling" with exchange rates; unfortunately that strategy may leave you uncompetitive in the eyes of your foreign clients or suppliers.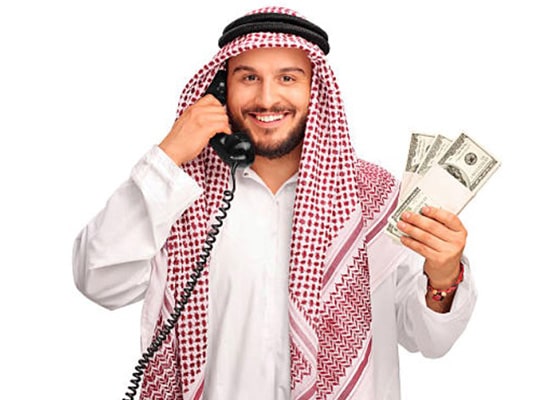 Alternatively, you may simply let your bank convert the foreign currency based on their buy/sell rate; again unwise, because more efficient, tailored FX Payment facilities may offer you better FX rates and risk management. That's why we've connected EdgeCTP to Western Union Business Solutions!
Combined Power: WU-EDGE + EdgeCTP
Connecting Western Union EDGE, the leading international payments platform, with our EdgeCTP, the world's #1 combined trading platform, means you get a host of services, like Spot FX Rates instantly into EdgeCTP from the global leader in cross-border business payments, enabling you to make empowered decisions.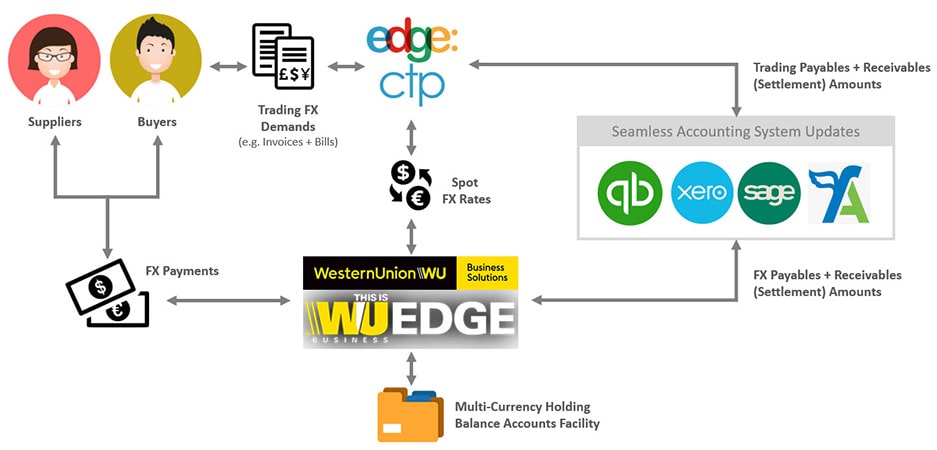 Where EdgeCTP focuses on the physical goods aspects of the international trade, complimentarily Western Union EDGE focuses on the FX aspects of the same trade. Giving you the benefits of Western Union's: fee-free FX payments in 54 different currencies that reach destinations in near real time; multiple currencies Holding Balance accounts, helping reduce conversion fees, and both EdgeCTP and WU-EDGE seamless update accounting systems. Saving time + money.
Connecting EdgeCTP to WU-EDGE is simply a few button clicks, which means by setting the default Trading Currency in EdgeCTP, the Western Union Business Solutions Live Spot FX rate, associated with your Trading Currency, is instantly shown when you need it on the full range of EdgeCTP financial trading documents. Such as Quotes, Proformas, Sales Orders, Standard Invoices, Commercial Invoices, Purchase Orders, Purchase Invoices (Bills), Credit Notes etc.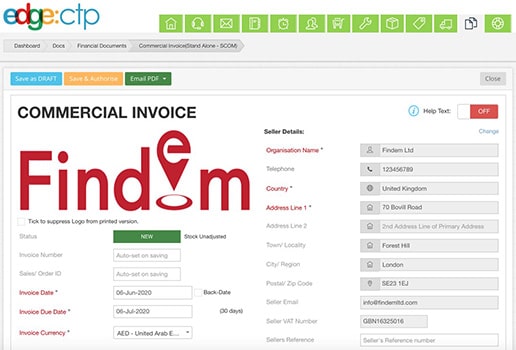 Adding Product lines to any of EdgeCTP financial trading documents (e.g. Commercial Invoices, Purchase Orders, etc.), allows you to instantly get Western Union Business Solutions Live Spot FX Rates per Product line. You can also use EdgeCTP's in application click-n-speak to engage directly with Western Union's Dealing Team to cover the FX position with a Spot Deal or Hedge Product. Increasing FX certainty as you trade internationally and reducing trade losses risk!


Awesome!! Let's Get Signed Up!
Start a 14-day free trial
   No credit card required       24/7 online support       Cancel any time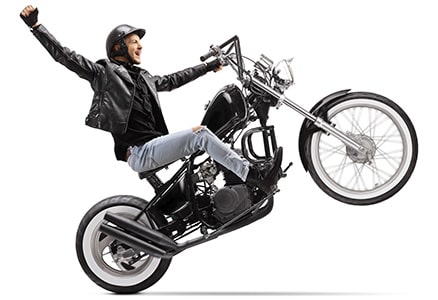 Fantastic!! Email Sent!
We've sent an email to
Just click the confirmation link in the email to start using EdgeCTP.
If you don't receive the email within a minute or two, then check your spam/junk folders.
If you STILL don't receive the email, then click either
Email send successfully.
Thanks for joining us!
Team EdgeCTP
Okay, Support Has Been Requested!
Someone from our EdgeCTP Support Team will be in contact shortly.
They'll email to you directly from our Morgan Goodwin company emails.
If you've still facing issues, then please contact support@morgangoodwin.com
We'll get you started shortly!