Overview: Incoterms CIF Explained.
Hi, I'm Geoff Runcie and I'm back with the latest episode of the Incoterms CIF in International Trade Series featuring renowned global trade expert Murdo Beaton and Abdul Mann, creator of the cloud-based export solution EdgeCTP.
If you're new to this series, then welcome, I hope you find it useful and that you're sufficiently inspired to go global.
In this session, Incoterms explained, we'll be breaking down the eleven Incoterms, explaining what they mean, their application, and the benefits of using them. There'll be eleven episodes in total so make sure to subscribe to our blog if you don't want to miss any. Alternatively, feel free to drop me an email on Support or visit us at our  Blog.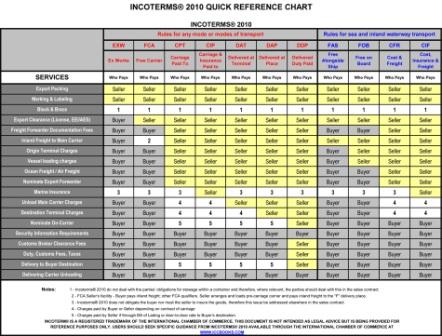 Geoff:
Today we'll be discussing Incoterms CIF including how and when to use it. So Murdo, what is CIF?
Murdo:
Incoterms CIF means Cost, Insurance, and Freight, and that would be cost, insurance, and freight to a named port of destination. It is a sea and inland waterway transport term and it is a very old term. Alongside FOB they are probably two of the most commonly used Incoterms in international trade. At this stage, I would probably say that if Incoterms are being used they should indicate that they are as per Incoterms 2010. This is to make sure that the latest revision of Incoterms is the revision that is actually going to apply to the term. So for instance, if I was sending something on a CIF basis to Melbourne I would say CIF Melbourne then in brackets (as per Incoterms 2010).
Abdul:
So it's very clear to both sides and everyone else involved in the supply chain that this is the Incoterm that's being used.
Murdo:
If no reference is made in the title to Incoterms CIF, such as saying CIF Melbourne, one would then say "Well how do you know it's the Incoterm interpretation that applies?" Incoterms themselves do not have a right to say we are the only interpretation that can be applied to CIF. No, the exporter and the buyer could if they so wished to apply an interpretation to CIF themselves, and to all the other terms themselves but we here are considering that they want to apply the interpretation identified by Incoterms and that as in their last revision 2010.
So CIF stands for Cost Insurance and Freight, and using this term the seller's obligation is exactly the same as CFR. CIF is indeed Incoterms CFR with the element of insurance included as a responsibility for the exporter. In CIF the exporter is responsible for making sure that the goods are insured up to the port of destination at least, that is the port to which the exporter is paying all the costs. Like CFR the exporter's physical risk in the goods terminates at the same position as they did for Incoterms CFR, that being the position of FOB when the goods are loaded into the hold of the ship at the port of shipment.
Abdul:
In the old Incoterms, I know we've spoken about being clear about which Incoterms we're using and you mentioned at the very start that Incoterms CIF is an old Incoterm and is commonly used. FOB in the old Incoterms at the point at which they switched over had this term called Ship's Rail.
Murdo:
Oh yes.
Abdul:
Is that something that is now disbanded in some ways?
(Scroll down to continue…..)
Murdo:
Yes, it was always an oddity about FOB, the introduction of the Ships Rail, but I suppose there was a degree of logic to it. Over the years it served a purpose and it probably did work well but over time things change and the International Chamber of Commerce decided that this idea of a container being loaded across a ship's rail, one didn't know when it had crossed the rail because they waited until the strap broke and determined then which way did the container fall (laughs). Did it fall onto the ship or did it fall onto the quay? It sounds terribly ludicrous but alright, that's how it was.
Now that has all been changed and the Ship's Rail has been removed totally. Now it's just simply a case of loading the goods on board the vessel. Now we did also say earlier that FOB in itself was considered as a sea and inland waterway term and we also suggested that using FOB for the aviation market is not entirely right. However if we consider the Ship's Rail and if we then say "Well using FOB when the Ship's Rail was there, for aviation transport seemed to be ludicrous because the aircraft, no matter what type it was that was being used for the air freight, didn't have a rail on it so this was just not possible." Now, however, the ship's rail is removed so one now asks the question "Well, what is wrong with saying FOB Heathrow because the aircraft has a cargo hold in them and the cargo can be loaded into the aircraft's hold?" So yes, maybe that will be a later development that FOB can be allowed as an aviation term but right now it's not so that was just a passing remark.
So back to CIF, yes the insurance element is an element in this term that the exporter is responsible for and must make sure that the goods are covered at least for the minimum level of coverage which is Institute Cargo Clause C standard. The level of cover will again be a matter of negotiation between the exporter and the buyer, and whilst we say the exporter has a responsibility to insure them up to the port of destination, one would say it would be prudent for the exporter to consider with the buyer "Since I'm taking out insurance up to the port of destination, would you like the insurance cover to go beyond that point and maybe even up to your own premises? That way the insurance certificate that covers the goods covers it from A to B and we don't have a position where one leg of insurance stops at the port and another insurance document comes into play from the port to the final destination."
So it's quite common under CIF for the exporter to ensure the goods all the way through to the ultimate destination as determined by the buyer.
Abdul:
So if I may say so the two are very similar. CIF is also very similar to the road and air transportation Incoterm called CIP. So the two are very much the same, just the mode of transport varies across the two. Both are putting the onus of insurance on the seller so the exporter needs to insure the goods from their home market to the destination market and beyond if necessary, but the obligation to ensure it is on the seller.
Murdo:
CIF is a really, really true international trading term because these terms allows for goods to be bought whilst they're on the high seas. It's this term and the transport documents associated with it that made it possible for the commodity market to flourish in the international arena because commodity traders were able to sell their product while they were still being transported halfway around the world.
Abdul:
OK, let me just stop you there Murdo because that's a really interesting area that we're now bridging into. We can probably cover that in another one right? In essence, if you're an exporter and you're exporting goods internationally and you've got a buyer in a destination market, you're going to go with CIF because you're going to do it by sea. It's quite a large consignment and you're putting it onto the vessel and you're insuring it to the destination market. That's it in a nutshell. What we'll do is cover Bill of Lading in a separate topic and Letters of Credit and so in but in essence with CIF, we're done!
Geoff:
I hope you enjoyed this audio. If you'd like more information on international trade go to www.edgectp.com/blog.
All material in this audio is copyrighted and all reproduction rights reserved by Morgan Goodwin Ltd, thank you.